Al Capone was a notorious gangster and the way he wore his suit, hat and cigar made him instantly recognizable.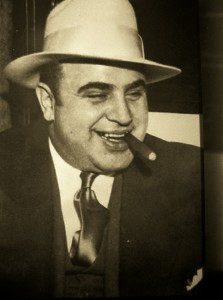 Al Capone and his hat
We have an authentic replica of his iconic hat for rent or sale at The Hat House in SoHo NYC. A classic soft and pliable quality raw edge fur felt fedora in an off white color with wide band and medium brim worn turned down on one side only. The hat was worn tilted which topped off the whole effect.
Our hats are top quality and are period authentic and very close to the originals. Capone would be comfortable wearing one of our reproductions if he was still around. Glad he isn't!
If you need this hat for your event, shoot, film or stage or other purpose, call us today at 347-640-4048